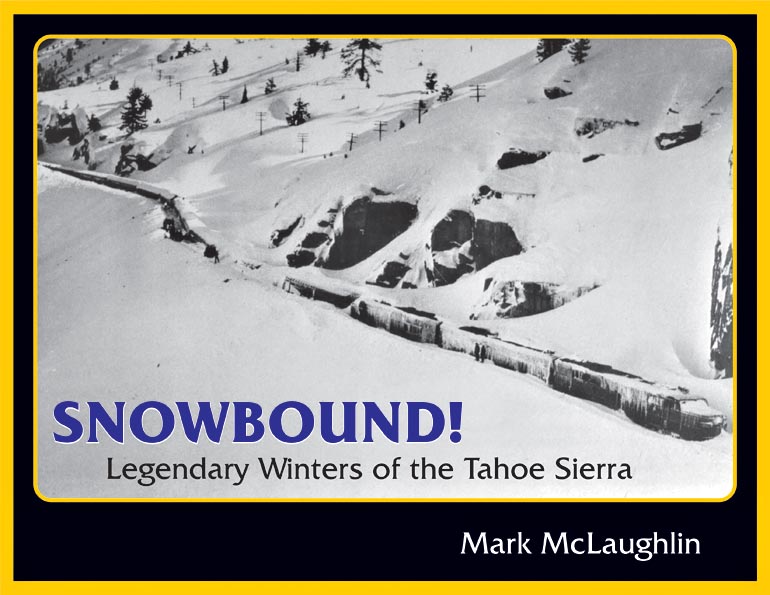 "Mark's new book SNOWBOUND! is a fantastic account of the winters of the Sierra; actually it's the best book ever published on the subject. A must have for those interested in the history of the Sierra and its winters! An amazing collection of historical photos, snow data, and stories."
—Christopher C. Burt: Author of Extreme Weather: A Guide and Record Book published by W.W. Norton, 2003, 2007
Mark's books are an entertaining blast from the past!
SNOWBOUND! Legendary Winters of the Tahoe Sierra is not a meteorology book, but it is about weather.
This well-illustrated, 8.5" X 11" publication focuses on the Top 10 biggest winters in the Tahoe Sierra based on snowfall measured at Donner Pass since 1879.
Its 160 glossy pages are loaded with amazing weather facts and incredible stories of men and women struggling to cope against some of the most powerful storms on Earth.
More than 250 large format photographs bring the drama to life.
This book is dedicated to all who love mountains in winter, and to California's Caltrans and Union Pacific Railroad crews — "Sierra Snowfighters" — who battle the Storm King every winter to keep our highways safe and our railways clear. Without their efforts the glorious Tahoe Sierra would be a lonely place in winter with few year-round inhabitants or visitors.
Purchase your autographed copy of SNOWBOUND! for only $34.95 including sales tax and shipping. See order form below
Check out Mark's other great award-winning books!
Click on each cover for more information about that title.
Order Books Here
Sales tax and shipping included in price!
Books

Cost

Order

SNOWBOUND!

$34.95

ID="Cell73">

$22.95

$21.95

$21.95

$21.95

$14.95

$14.95

Best Deal!
Get all 7 books for only $145.00

$145.00
Buy Now button will allow secure credit card or bank transfer payment via PayPal.
Alternatively, you can mail a check or money order payable to:

Mic Mac Publishing
P.O. Box 483
Carnelian Bay, CA 96140