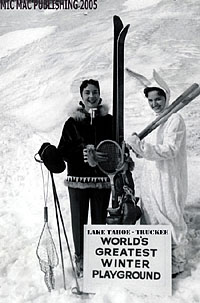 Mark McLaughlin writes columns and articles for many regional and national publications. Written in a clear and easy to read style, Mark's informative stories about California and Nevada history are entertaining and very popular with readers of all ages.
As a weather historian, Mark's work frequently focuses on how weather and climate has affected people living or traveling in the western United States. In 1846 an early winter trapped the Donner Party east of the Sierra Crest and blocked the pioneers from reaching California.
Downhill skiing as a sport was initiated in the West when California gold miners organized America's first ski club in the 1860s. A sampling of Mark's stories and articles are offered below for your reading pleasure. We will be posting new stories and photographs on a regular basis so come back and visit again. Don't forget to tell your friends.
Weather Stories